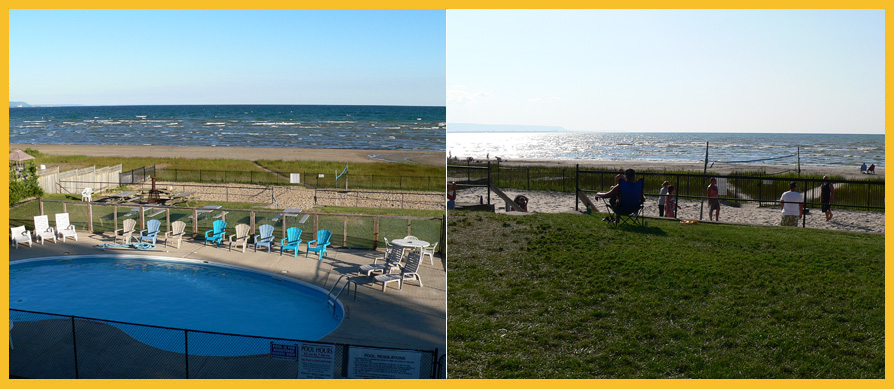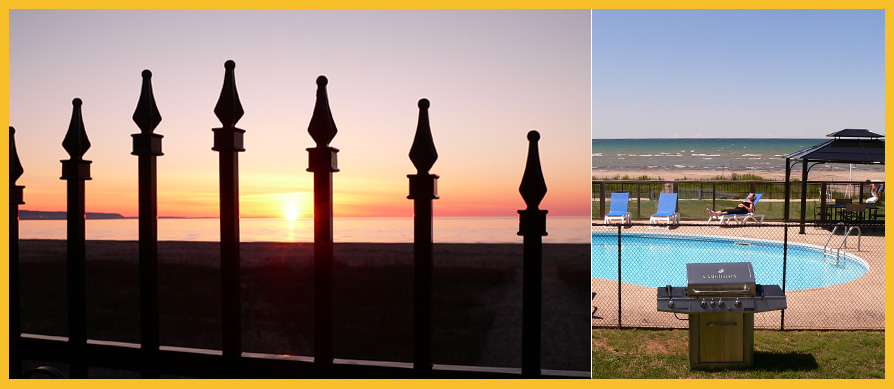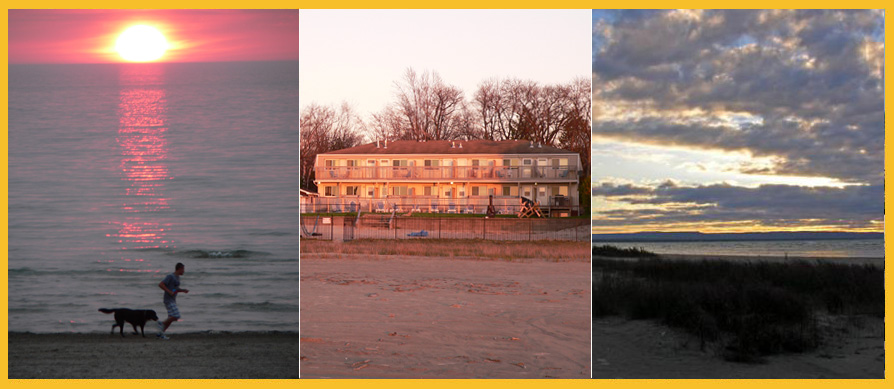 - Accommodations > 10 to 14 person unit
Welcome to Bayfront Beach Resort
Your Four Season Vacation Destination
Bayfront Beach Resort is conveniently located bewteen beach area #4 and #5 on Shore Lane at the bottom of 29th Street N. It is just a short walk away from Riverbend Plaza where stores, cafes and restaurants await you. Bayfront Beach Resort is open year round inviting you to explore the individual charm of each of the seasons. Summer of course is the most vibrant time of the year with a large number of people enjoying beach life. Almost every weekend features a special event: classic car shows, sport and cultural events offer interesting things to do for adults and kids alike. Hike miles of prestine sandy beach or stroll along Shore Lane. There are miles and miles of bike trails along the water waiting for you. In the winter months Wasaga Beach is a unique paradise for winter sport fans and snowmobilers alike. The nordic ski centre at Blueberry Trails Provincial Park offers an abundance of groomed trails for skiers and snowshoers. With Blue Mountain Ski Resort only a short 30 minutes drive away, Bayfront Beach Resort Townhomes are also ideally located for alpine skiers and snowboarders.
Leave Your Hectic City Life Behind
Staying at Bayfront Beach Resort means leaving your stress at home. Chill out from your hectic city lifestyle and recharge your batteries. No matter what your preferences are chances are you'll find a world class playground for your outdoor sport in Wasaga Beach and surrounding area. The southern Georgian Bay area offers some of the best in fishing, boating, golfing, skiing and hiking in Canada while the Nottawasaga River invites you to short and extended canoe tours alike. Fishing for trout and salmon is excellent. Play a round of golf at any one of the many golf courses in the area. Dine out casual or in style at one of the many restaurants in Wasaga Beach, Collingwood or Village of the Blue Mountains. Nightlife is abundant with bars, restaurants and live music lined up at the 'Main End'.
Unit One
Three Bedroom Two Level Condo:
3 bedrooms upstairs:
1 full bathroom, 2 rooms with 1 queen bed in each
and the big room with a balcony and 3 double beds
Main Floor:
Eat In Kitchen, Large Living room and 1 half bathroom walk out to the beach
10 person limit

Four Bedroom Three Level Condo:
$3,427.20 Per Week Saturday to Saturday
Unit 1A & B can be rented together for a 14 person capacity, 3 floor 4 bedroom unit.
This option is available for unit 1 only
Inquire Now!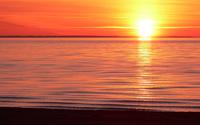 Offering condominium rentals on beautiful Wasaga Beach.

Contact us now to make a booking or for more information.Read more..